Welcome to Clash of Steel!
---
Featured battle : Tugela Heights
Part of The 2nd Boer War (or Three Years War)
Date : 14 February 1900 - 27 February 1900
Buller's last, and finally successful attempt to cross the Tugela River. His steady, prepared and planned advance on the Boer positions on Wynne's Hill, Hart's Hill and Pieter's Hill was well supported by artillery. Although the casualties were heavy, they finally drove the Boers off the ridges beyond Colenso and opened the road to Ladysmith.

Featured image :
British SLR rifles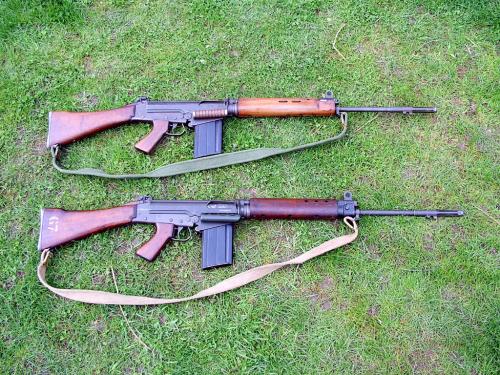 A pair of British SLR rifles as used by the British Army during the 1970's and 80's. They were a 7.62mm semi-automatic, single shot version of the Belgian FN Assault rifle. Displayed by the 20th Century Revisited group.
Gallery updated : 2019-01-06 16:35:56
Featured review :
Arnhem. Battle for the island and evacuation.
Battlefield History TV Team


When I saw the picture on the case of this DVD I had very low expectations of the contents. The main character in the foreground is holding a Sten gun by its magazine and aiming it when it isn't cocked. This is very wrong firstly because when fired the magazine easily shakes loose and secondly one would need to move the weapon away from the sighting position in order to cock it.
When I came to watch the DVD I got a pleasant surprise, proving the old adage 'don't judge a book [or DVD] by its cover'.
I found a beautifully presented, accurate account of the final stages of the battle. This is the fourth film in the Operation market garden series. The strategic plan is simply told as is the tactical execution. There is a good balance of talk to camera by the experts and some veterans. The location of the battle as it is today is used as backdrop to aid the explanations of the developments. To balance the talk the film also includes maps, archive footage and re-enactor footage.
All in all it is good material well presented which kept me interested and entertained for the whole 80 minutes.



Pen & Sword Digital, 2013



Reviewed : 2019-01-07 14:32:13
---