Welcome to Clash of Steel
---
Featured battle : Roanoke Island
Part of American Civil War
Date : 07 February 1862 - 08 February 1862
Burnside led an amphibious attack against the Confederate defences on Roanoke Island at the mouths of both the Albemarle and Pamlico Sounds on the North Carolina coast. It was seen as key to attacking Richmond from behind. He directed a makeshift fleet of steamers mounting 64 guns against the under-manned and out gunned defensive batteries while his transports landed his overwhelming force of 13,000 troops on the undefended southern half of the island. A makeshift 'mosquito' fleet of Confederate vessels attempted to intercede, but made little impression, and the Union infantry managed to force a way through supposedly impenetrable swamp and quicksand to take the defenders in the flanks. Most surrendered, amd the island fell.

Featured image :
The Battle of the Standard. Battlefield Monument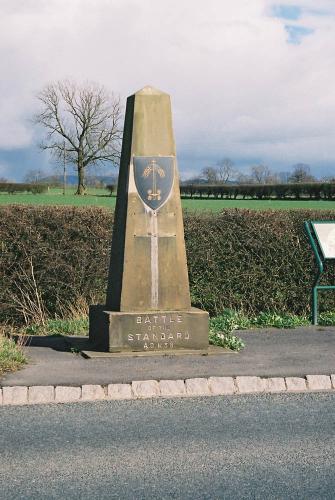 A monument placed at the side of the Great North Road a few mines north of Northallerton and in front of the battlefield itself.
Gallery updated : 2016-02-21 17:33:57
Featured review :
British Aircraft Carriers
David Hobbs


A wealth of knowledge presented in a most readable form for everyone from the novice to the initiated. Encyclopedic in scope it may be dipped into at any point but I found in reading cover to cover the fascinating story went from airships to future carriers. All aspects, design, development and service are dealt with. There are very many photographs, lots from the author's own collection, plus drawings and plans. An unusual but welcome feature are the fold out copies of Admiralty drawings which are in the middle of the book. At £45 this is not a cheap book, but a Rolls Royce is not a cheap car, and this is a Rolls Royce of a book.


Seaforth Publishing. Pen & Sword Books Ltd., 2013



Reviewed : 2015-04-29 19:28:26
---