Anniversaries for today :
Welcome to Clash of Steel
---
Featured battle : Monteleone
Part of French War of the Third Coalition
Date : 06 July 1806
The troops of the Polish-Italian Legion holding the village surrendered without firing a shot.

Featured image :
M24 Chaffee light tank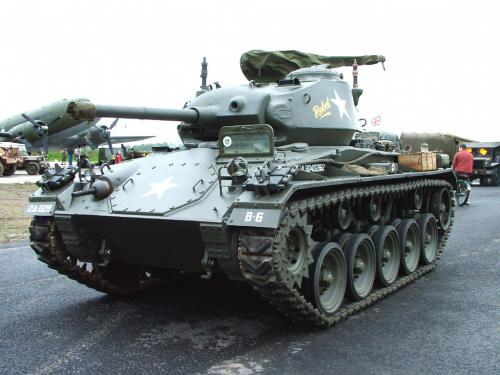 Developed during WW2 as a replacement for the out-gunned Stuart Light Tanks, it was designed ito carry a heavier 75mm gun to take on the German armour. Although it actually saw little service other than the the later stages of the war in NW Europe, it's major theatre was during the Korean War where it performed well. It was supplied to many other allied forces as military aid, including the French Union forces in Indo-China. Armoured platoons from Vinh Yen and An Khe to Dien Bien Phu fought gallant but ultimately hopeless actions against waves of Viet-Minh infantry. The tanks (called Bisons by the French) provided essential fire support for the out-numbered French Colonial troops in a very harsh enviroment for a heavy vehicle. As to specifics, it had a crew of 5, was armed with the 75mm main gun, plus .30 caliber MG mounted coaxially with the 75mm, and a further .30 cal in the front hull alongside the driver. It could reach 30mph (48 km/hr), with a range of 100 miles (160 km) and was named after General Adna R Chaffee Jr. who was instrumental in developing the US armoured forces before WW2 and had died of cancer on 1941.
Gallery updated : 2016-02-21 17:33:57
Featured review :
The Dutch in the Medway
P. G. Rogers


Before reading this book you wonder why Seaforth would re-published a 1970 book. When you have finished it you'll say 'I'm glad they did'. The subject is one small but very important battle in the Second Anglo-Dutch war. The author places it in its historical context both the before and after. The writing style is such that reading it is easy, it is detailed enough for the military buff, but not at the expense of the general reader. The text is supported by sufficient maps and a few well chosen illustrations which includes a print of a contemporary map. The author's explanations and opinions are well supported by quotations, included in the text, from the writings of people at that time. His sources, listed at the end of the book, are many and varied. We thoroughly recommend this book. If you are left wanting to know more about the Royal Navy in the latter half of the Seventeenth century then 'Pepys's Navy' by J.D.Davies, reviewed elsewhere on this site, is the book for you.


Seaforth Publishing. Pen and Sword Books Ltd., 2017



Reviewed : 2017-04-04 06:37:43
---