Welcome to Clash of Steel!
---
Featured battle : Verona
Part of The French Revolutionary and Napoleonic Wars
Date : 26 March 1799
Neither side gained any advantage from this battle and they both lost over ten per cent of their men.

Featured image :
A WW2 Red Cross aid post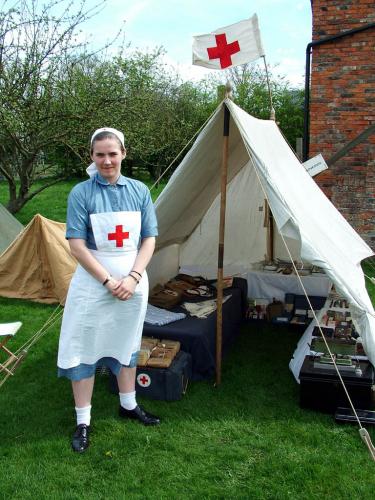 A depiction of a Red Cross aid post by members of the Joint War Organisation. The post is shown with nurse, tent and all necessary medical equipment and supplies.
Gallery updated : 2019-01-06 16:35:56
Featured review :
Freeing the Baltic 1918-1920
Bennet, Geoffrey


An interesting and unexpected book about an often overlooked conflict in the Baltic states during the confusion following the 1918 armistice.
It ostensibly follows the Baltic activities of British Navy cruisers and destroyers under the command of Admiral Sir Walter Cowan, but it actually provides a much wider picture of the struggle of Latvia, Lithuania and Estonia for independence from Russia. It gives a good overview of the various nationalist forces fighting both the Bolshevik forces and the White Russians under Yudenitch, as well as the ethnic German 'Balts' and the remaining former Imperial German forces under Gen. von der Goltz who himself was attempting to promote German influence in Latvia and it's neighbours. But the main theme of the book is how the Royal Navy, together with some elements of the French attempted to moderate this and stop Bolshevik and German interference.
At times it is quite 'high-level', but this is understandable, given the scope of the subject. It redeems itself with some good first-hand accounts and detailed engagement descriptions, particularly of the 40 foot, shallow draft motorboats C.M.B.'s which could each carry one or two torpedoes. These small, fast boats managed to infiltrate, under cover of night, right into Kronstadt harbour which protected Petrograd (St Petersburg) and sheltered the pride of the Bolshevik navy, and sink much of it!
This is a good update of a work originally published in 1964. It includes well researched appendices and some interesting photos of the people and ships involved but more than that, it highlights that for many people, the fighting definitely did not end on the 11th November 1918.


Pen & Sword Maritime, 2017



Reviewed : 2017-11-10 20:21:32
---