Anniversaries for today :
Welcome to Clash of Steel!
---
Featured battle : Roundway Down
Part of The Civil Wars of the Three Kingdoms
Date : 13 July 1643
An unusual engagement in two halves. Lord Henry Wilmot and a relief force of 1,800 cavalry first engaged and drove off only the horse of Waller's Parliamentarians, then marshalled and returned to the field where they proceeded to do the same to the foot. A crushing defeat for Sir William Waller.

Featured image :
British Fox CVR(W)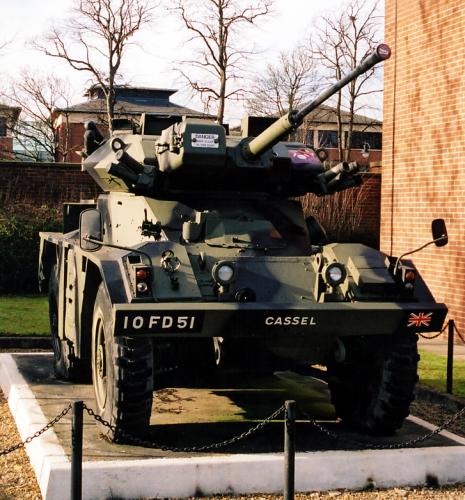 An image of a Fox Combat Vehicle, Reconnaissance (Wheeled) or CVR(W) formerly in service with the Queens Own Yeomanry, a British Territorial Army or volunteer regiment but now serving as a gate guardian. It was equipped with a 30mm Rarden gun in it's rather over-sized turret which caused it to be notoriously top heavy. It could reach speeds of up to 65mph (105km/h) but had a tendency to roll if cornering at speed, sometimes with fatal results. It was built by Royal Ordnance, Leeds and served in the mid to late 1970's and 1980's.
Gallery updated : 2019-01-06 16:35:56
Featured review :
Russian Eyewitness Accounts of the Campaign of 1814
Alexander Mikaberidze


Did you know that when Alexander, Tsar of Russia, during the invasion of France in 1814, gave an Imperial banquet an arc of wood was cut from the table to accommodate the enormous stomach of the King of Württemberg. Furthermore, in 1814, the Swiss did not remove their hats while eating lunch. I was unaware of both of these facts before I read this remarkable book. The author has brought together a massive collection of first hand accounts written by Russians who took part in the 1814 campaign which culminated with the downfall of Napoleon. Some accounts are barely more than one page, others run into many pages. Some are exciting with the cut and thrust of battle. One, not so exciting, is a 'boring' daily diary chronicling moving and halting for nine days in the course of which the writer covered 200km forward and back! It really does bring home the reality of Napoleonic soldiering. There are many references to looking for food, fodder and a place to rest indoors if possible because this was January in north-western France with ice floes on the rivers destroying pontoon bridges. In a number of cases there are conflicting views of the same event reinforcing the notion that no two people on the same battlefield see the same battle.
There are only two maps, a few good illustrations and nearly 300 pages that are well worth reading.
Thoroughly recommended.



Frontline Books. Pen & Sword Books Ltd., 2013



Reviewed : 2018-03-28 18:59:02
---