Welcome to Clash of Steel!
---
Featured battle : Mir 1
Part of The French Revolutionary and Napoleonic Wars
Date : 10 July 1812
Within the general pattern of the Russian withdrawal occasional stands, such as this engagement, blunted the French advance. The Don Cossacks, under Hetman Platov, supported by an infantry brigade outnumbered and repulsed the 4th Light Cavalry Division of Latour-Maubourg's IV Cavalry Corps.

Featured image :
Medieval encampment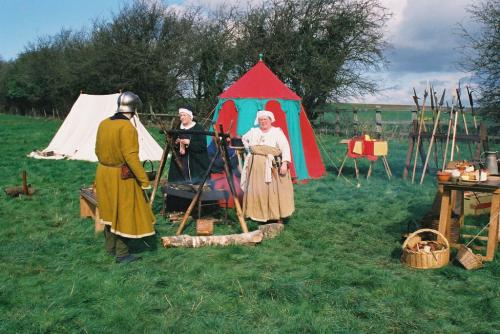 An example of the camp followers and how a military camp in the time of the Wars of the Roses might have looked. Polearms are racked ready for use, food is cooking over the fire and bread and cheese waits on the nearby table.
Gallery updated : 2018-09-21 16:58:22
Featured review :
Rome at War, Caesar and his Legacy
Gilliver, Goldsworthy & Whitby


A 3 part work covering Caesar's Gallic wars, his civil war, then a study of late Rome in 3rd to 7th centuries


Osprey, Essential Histories, 2005



Reviewed : 2011-09-30 00:00:00
---