Welcome to Clash of Steel!
---
Featured battle : Belfort
Part of The French Revolutionary and Napoleonic Wars
Date : 24 December 1813 - 12 April 1814
The Austrian actually involved over 9,000 men but their strength at any one time was in the region of 3,000. On surrender it was found that about 1,000 Frenchmen had been killed or died of sickness. The remainder were disarmed and allowed to go home.

Featured image :
HMS Victory, the prow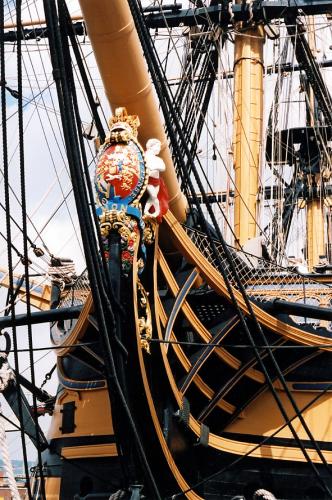 Detail of the Victory's prow showing the crest figurehead.
Gallery updated : 2019-01-06 16:35:56
Featured review :
Grouchy's Waterloo
Andrew W. Field


Very early on in this book the author endeared himself to me with two statements. On page 6 he expresses his intention not to name any places without including them on a map. As one who hates having to read with a map open by my side I applaud this notion in spite of the fact that he doesn't always succeed in mapping every place all though the book. On page 12 he refers readers elsewhere for the lead up to Waterloo stating that there is to a plethora of fine books on the subject. Again I was both surprised and pleased to find a 'Waterloo' book that did not start with Napoleon's escape from Elba.
The book is written from a factual rather than a judgmental position with many insertions of contemporary and post event quotations from reports and diaries. However the last chapter 'Analysis and Conclusions' , where he does discuss the key controversies, is particularly worthy of note.
My overall opinion is that the research has been thorough, the style of writing clear and lucid with many maps and illustrations. A book not to be put down until it is finished. Very highly recommended.


Pen & Sword Military. Pen & Sword \Books \Ltd., 2017



Reviewed : 2017-06-26 15:48:11
---