Welcome to Clash of Steel!
---
Featured battle : Seven Pines (Fair Oaks)
Part of American Civil War
Date : 31 May 1862 - 01 June 1862
Attempting to profit from the two Union wings being separated by the Chickahominy River, and McClellan's indecisiveness in waiting for McDowell, Joe Johnson's numerically superior Confederates attempted to envelope and destroy the isolated Union left wing south of the river. Poor orders and staff control, however, meant that all coordination was lost, and the assault turned into piecemeal frontal attacks which were beaten off by the Yankee's causing more southern casualties than northern. Gen. Johnston himself was wounded by a shell fragment, causing Robert E Lee to be given command of the Army of Northern Virginia.

Featured image :
RAF Tucano T mk 1 Trainers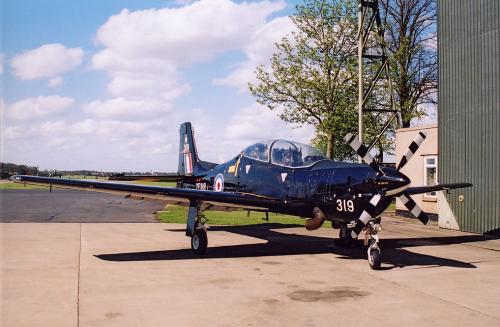 These two pictures show aircraft from the two squadrons comprising No.1 Flying Training School at RAF Linton-on-Ouse. The aircraft themselves are Tucano T1's designed by Embraer of Brazil but assembled by Shorts of Belfast, Northern Ireland. They are powered by a Garrett Turboprop developing 1151 static horse power and can reach 350mph and 25,000 feet altitude. They are also fully aerobatic, stressed from +6 to -2.5 G. The aircraft on the left is from No. 72 (Reserve) Squadron and that on the right No.207 (Reserve) Squadron.
Gallery updated : 2022-04-04 08:33:43
Featured review :
The BEF in France 1939-1940
John Grehan & Martin Mace


A most interesting compilation of some of the despatches sent by the senior Army and Naval commanders involved. Here presented is the raw material, the facts, as they were seen at that time by those people without the benefit of hindsight to enable them to make any adjustments to the narrative. The material covers some of the initial deployment of the BEF and its eventual evacuations from around Dunkirk and Cherbourg. Warmly recommended with the reservation that one needs either a very good knowledge of the geography of northern France or a large scale map to hand.


Pen & Sword Military, 2014



Reviewed : 2014-10-31 20:01:21
---