Welcome to Clash of Steel!
---
Featured battle : Schwyz
Part of The French Revolutionary and Napoleonic Wars
Date : 14 August 1799
The casualty figures given are suspect as they are derived from purely French sources. The attack was in part amphibious by eight grenadier companiesacross the Urnersee landing at Brunnen.

Featured image :
British Fox CVR(W)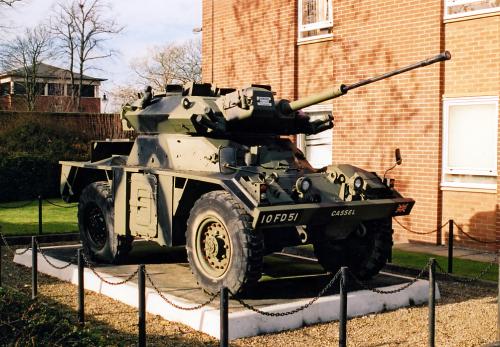 An image of a Fox Combat Vehicle, Reconnaissance (Wheeled) or CVR(W) formerly in service with the Queens Own Yeomanry, a British Territorial Army or volunteer regiment but now serving as a gate guardian. It was equipped with a 30mm Rarden gun in it's rather over-sized turret which caused it to be notoriously top heavy. It could reach speeds of up to 65mph (105km/h) but had a tendency to roll if cornering at speed, sometimes with fatal results. It was built by Royal Ordnance, Leeds and served in the mid to late 1970's and 1980's.
Gallery updated : 2019-01-06 16:35:56
Featured review :
The Civil War in Yorkshire, Fairfax vs Newcastle
Cooke, David


Good new work covering the Yorkshire battles of the Civil War and the struggle between the Earl of Newcastle and Lord Fairfax. Also includes a section giving suggested walks around several of the battlefields and plenty of photographs.


Pen and Sword, 2004



Reviewed : 2011-09-30 00:00:00
---