Welcome to Clash of Steel!
---
Featured battle : Schliengen
Part of The French Revolutionary and Napoleonic Wars
Date : 24 October 1796
The Austrians continued to harrass the French withdrawal. Here Moreau stood to make his crossing of the Rhine back into France. Only two small bridgeheads, Kehl and Hüningen, on the east bank of the Rhine were left in French hands.

Featured image :
Russian T34/85 Tank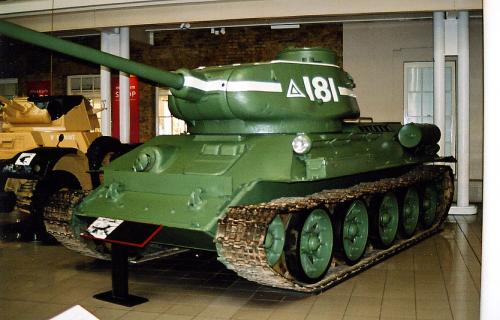 Widely thought the be the best tank of the war, the T34 was designed in 1939 but first appeared in battle in June 1941. By the end of the war 40,000 had been produced and it continued to serve in various armed forces from 1943 right up to 1985. This particular example is painted in the colours of the Soviet 95 division in Berlin,1945. The T34/85 mounted an 85mm gun in the turret and had thicker armour that earlier models.
Gallery updated : 2022-04-04 08:33:43
Featured review :
Luck of a Lancaster
Thorburn, Gordon


Now this is an excellent book. It is ostensibly the career of one Lancaster bomber – W4964 J-Johnny – which managed to survive the war but in fact it is a testament to the lives (and more often deaths) of the RAF heavy bomber crews. It introduces different crews who flew WS-J at different times for No.9 squadron and, through their particular missions and experiences, tells the story of all such crews including the shocking and saddening toll.

While W4964 made it through to VE Day, 103 of the 244 men who flew in her at one time did not. The book covers the experience of downed aircrew escaping from France when some former 'J' crew are shot down in another bomber. It details the Battle of Berlin in 1943 when the RAF attempted use cunning and technology to reach their targets and quotes the German night-fighter pilots trying to shoot them down. It even covers the hunt for the Tirpitz that W4964 took part in, carrying a Tallboy bomb to try to sink the battleship. Funny, thrilling, fascinating, shocking, sobering and above all, well written. Read this book.


Pen and Sword Aviation, 2013



Reviewed : 2015-05-27 20:02:56
---