Welcome to Clash of Steel!
---
Featured battle : Flushing [Vlissengen]
Part of The French Revolutionary and Napoleonic Wars
Date : 30 July 1809 - 16 August 1809
The number of the Franco-Dutch defenders was maintained at about 6,000 the sick and wounded were evacuated and reinforcements were sent in. The British troops were supported in the bombardment by naval ships. The total British force was too small to accomplish the task allotted to them. This was the last action of this campaign.

Featured image :
Hawker Hunter E-419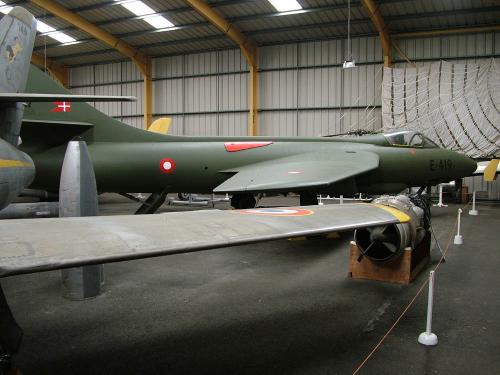 First introduced in the early 1950's and still serving with various airforces around the world right into the 1990's, the Hunter has been described as Britain's most successful post-war military aircraft. It was also the last in a line of classic fighters build by the Hawker aircraft factory. This example is a Mk 51 (similar to the British Mk 4) built for the Danish Air Firce in the 1950's and given to the museum on it's retirement in the 1970's. Powered by a Rolls Royce Avon Turbojet up to Mach 0.94 it was armed with 4 x 30mm Aden cannons in the nose beneath the cockpit and could carry up to 2,000lbs of under-wing stores including 1,000lb and 500lb bombs, 24 x 3 inch rockets or extra fuel in drop tanks (useful since the internal fuel capacity of the Hunter was very low).
Gallery updated : 2021-04-01 18:52:49
Featured review :
Mussolini's Defeat at Hill 731
John Carr


Having enjoyed John Carr's book The Defence and Fall of Greece [review elsewhere on this site] I feared this book would be a rehash of a lot of the same material. My fears were groundless the focus is firmly on the battle for hill 731. Indeed it is so much so that I was glad to have read the books in the order I did as that gave the full context for the gruelling battle.
Within the grand scheme of the Second World war this battle was a small side show. One hill in Albania being fought over by the Greeks and the Italians. The truth about grand schemes is that they come down to individual men, the poor bloody infantry, to make them work or to foil the plans of the enemy. In this book John Carr tells the story of lots of individuals in a gritty gripping way. It is not a pretty tale but it fills the reader with wonder and admiration for the soldiers of both sides who fought for hill 731.
This book works on so many levels it can be read as a great war story or it can be seen as an important spotlight on part of what is an often overlooked front in WW2.
We highly recommend it.



Pen & Sword Military, 2020



Reviewed : 2021-01-01 11:21:11
---