Anniversaries for today :
Welcome to Clash of Steel!
---
Featured battle : Thorn
Part of The French Revolutionary and Napoleonic Wars
Date : 16 February 1813 - 16 April 1813
The Russian follow up to Napoleon's retreat reached the stage of the reduction of French strong points. Thorn was garrisoned in part by the remnants of units which had retreated from Russia. The French and Polish prisoners went into captivity but the bavarians were allowed to return home under the condition that they did not fight against Russia or her allies during 1813.

Featured image :
HMS Illustrious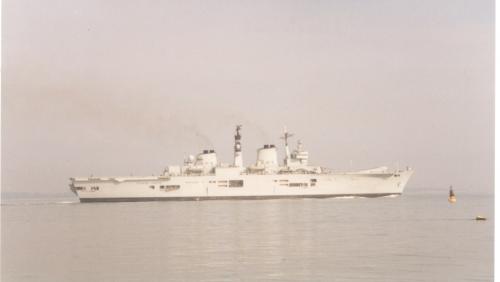 The carrier Illustrious returning from Middle East deployment
Gallery updated : 2019-01-06 16:35:56
Featured review :
British Submarines in Two World Wars
Norman Friedman


This book was a real eye opener for me. I thought I knew quite a lot about submarines but my knowledge paled into insignificance when found the wealth of information before me. Here is a book that tells you all you need to know about submarines. One could probably build a period submarine with little more than the plans and descriptions here laid out. But the book is more than a technical manual. The thinking and attitudes which under pinned the planning and the execution of the Royal Navy's submarine strategy are well described. The inter-war years are particularly fascinating in this respect. The vessels themselves and the thinking behind them range from the actual through the practical and onto the weird and wonderful. Many things caught my eye and imagination among which were beam firing torpedoes, a large submarine cruiser mounting 6 x 6" guns, some very strange and ugly hull forms, and an aircraft carrying submarine which was built but never went into service. There is also a special mention for the only action in which a submarine has torpedoed another while both were submerged.
This is a large book, 295 mm by 250 mm portrait with 429 pages. There are many photographs, about one per page in total, all appropriately annotated. There are many reproductions of technical drawings from the National Maritime Museum and numerous superb John Lambert drawings. There are also two three page and one four page spread of whole ship drawings from the NMM. It is clearly the product of a massive amount of research written up in a very readable style. However I would caution against cover-to-cover reading unless you can absorb facts at a very high rate. There is no dross, 'all meat and no gravy' as my grandfather would say.
This is a rather special book and we highly recommend it.



Seaforth Publishing, 2019



Reviewed : 2019-09-06 19:06:39
---