Welcome to Clash of Steel
---
Featured battle : Casaglia
Part of The French Revolutionary and Napoleonic Wars
Date : 12 April 1815
The Austrians, breaking out of their bridgehead at Occhiobello, attacked two villages held by the Neapolitans. One village [Ravale] was taken quickly but Casaglia was not taken until nightfall. Figures for the neapolitans engaged are not available.

Featured image :
Horse Artillery troop - Boer War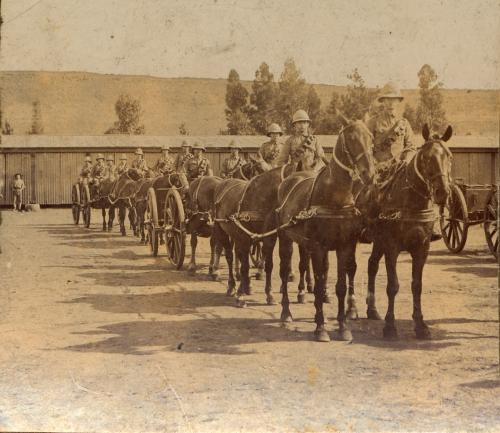 An untitled photograph of a troop of horse artillery from the Anglo-Boer War period. The image clearly shows the late 19th century British khaki uniform. From an Underwood and Underwood stereoview.
Gallery updated : 2016-02-21 17:33:57
Featured review :
Waterloo Battlefield Guide
David Buttery


From the outset this book delivered more than I was expecting. Not only was there a description of the many places relevant to the Waterloo story placed, of course, in their modern setting to make them easy to find; but there was also a narrative of the battle with the troop dispositions and timings as accurate as you will find anywhere else. The maps and illustrations are numerous and good servants to the text. I read the book before my visit to Belgium and, having now used it extensively while there, my advice to the would be visitor is read it before you go and don't go without it. Highly recommended.


Pen & Sword Family Military, 2013



Reviewed : 2015-07-17 19:36:23
---