Welcome to Clash of Steel!
---
Featured battle : Tolosa
Part of The French Revolutionary and Napoleonic Wars
Date : 25 June 1813
The French, General Foy, attempted to hold the walled town. The Allies would have had fewer casualties had artillery been used against the towns gates and walls sooner than it was used. The French casualty figures given by General Foy are thought to have been much higher. He withdrew from the town towards the Franco-Spanish border.

Featured image :
Boer Mauser pistol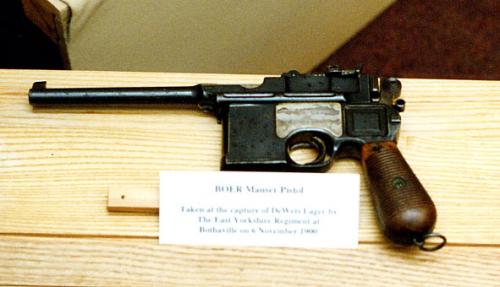 A Boer Mauser pistol taken by the East Yorkshire Rgt after Bothaville, November 1900
Gallery updated : 2019-01-06 16:35:56
Featured review :
Fighting for the French Foreign Legion - Memoirs of a Scottish Legionnaire
Lochrie, Alex


There are quite a number of memoirs out there of men attracted by the legion, and I've read most of them. Luckily, this one ranks quite highly amongst those I've read. The author manages to join the legion at quite an advanced age - 38 - and so brings a different viewpoint to the training and life as an older man.
His training and experience as a member of their special forces is usual for this kind of book - he serves in Tchad, Bosnia, Desert Storm, but he becomes a technical specialist in photographic techniques and brings a sensitivity to his writing that is sometimes lacking in others. It's a more thoughtful book, and should be a good addition to anyone's Legion library.



Pen & Sword Military, 2013



Reviewed : 2015-05-27 20:14:20
---