Welcome to Clash of Steel
---
Featured battle : Marston Moor
Part of The Civil Wars of the Three Kingdoms
Date : 02 July 1644
Following his audacious relief of York, Prince Rupert decided to offer the Parliamentarians battle, even though Newcastle urged caution and patience. The largest battle of the Civil Wars, began with cavalry success for both sides, although the parliamentarian cavalry under Cromwell and Sir Thomas Fairfax counter attacked and crushed the Royalists. The foot in the centre were forced from the field, and although Newcastle's 'Whitecoats' stood firm, they were cut down. This King's Army of the North was basically destroyed and the City of York soon Fell. This was the beginning of the end for the Royalist cause.

Featured image :
Wrecked Iraqi T72 Tank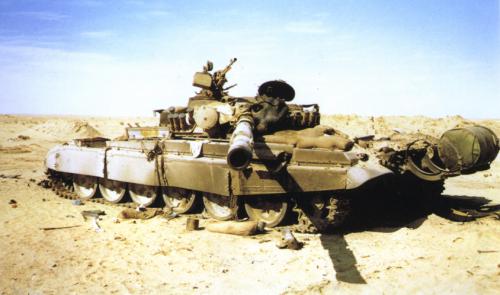 The wreck of an Iraqi T72 tank following the US left flanking attack into the Iraqi desert to surround and destroy Sadaam Hussein's Republican Guard units. The detail shows the damage caused by the depleted uranium tipped APFSDS (Sabot) rounds fired by tanks like the Abrams. It only shows a small puncture in the armour, but nothing within the tank would survive the resultant internal explosion.
Gallery updated : 2016-02-21 17:33:57
Featured review :
Pilot Cutters Under Sail
Tom Cunliffe


Not only an authorative review of the development of these special craft but a social history of a 'special' working group. There is plenty of well researched 'meat' for the specialist but it is so well written as to be accessible and to be enjoyed by the interested reader. Some previous knowledge of small boat sailing is helpful otherwise read the last two chapters first. Although it could be a 'coffee-table book' once started I found it difficult to put down.


Seaforth Publishing, Pen & Sword Books Ltd., 2013



Reviewed : 2013-12-20 19:57:26
---