Anniversaries for today :
Welcome to Clash of Steel
---
Featured battle : Dohna & Pirna
Part of The French Revolutionary and Napoleonic Wars
Date : 08 September 1813
Schwarzenberg, commanding the Army of Bohemia, sent a very strong reconnaissance force towards the two French corps south of Dresden. After suffering only light losses on bothsides the Allies broke off the engagement. This was because they had news that Napoleon was coming to take charge of the French force.

Featured image :
Firepower through the ages - WW1 Steyr Mannlicher Carbine - MUR3_ftastmn2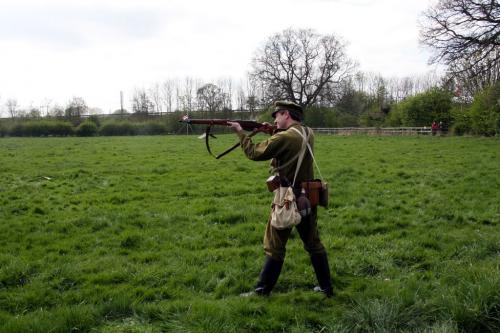 The main rifle of the Austro-Hungarian forces of the First World War, it was unusual in having a straight-pull blt mechanism rather than the more usual rotating bolt.
Gallery updated : 2016-02-21 17:33:57
Featured review :
Waterloo Archive Volume V: British Sources
Gareth Glover [Ed]


Another superb book in this series. This one has tapped a very rich seam of material hitherto inaccessible to anyone unable to read German. Though the whole book is most interesting Appendix 2 in particular appealed to me. It records some of the 'Glorious Feats' performed by men of the KGL and Hanoverian Army. There are also some excellent reproductions of original illustrations of uniforms and 'battle' scenes. See review of Volume VI for comment on the whole series.


Frontline Books, Pen & Sword Books Ltd., 2013



Reviewed : 2015-03-31 08:36:04
---