Welcome to Clash of Steel
---
Featured battle : Mechanicsville
Part of American Civil War
Date : 26 June 1862
Confederates under A.P.Hill attacked across the Chickahominy and drove the Union troops east through Mechanicsville and across Beaver Dam Creek, but there Porter's yankees formed a strong position and repulsed A.P. and D.H Hill's un-coordinated attacks. Jackson, who was due to out flank Porter never arrived and the Confederates fell back.

Featured image :
A Parliamentarian Musketeer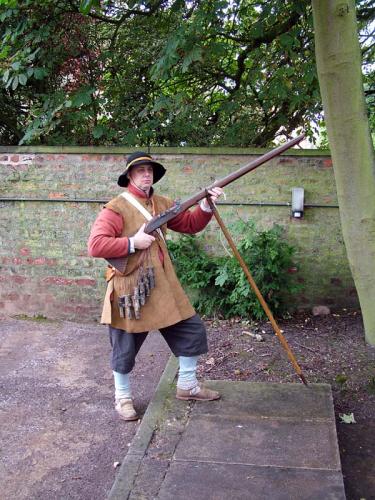 A member of the Tower Hamlets Trayned Band showing how a Civil War musketeer would have been armed. He has a matchlock musket of the period, with a rest, and the match (a piece of slow-burning fuse used to light the priming powder which in turn ignited the main charge) held ready in his left hand, away from the breech. He wears a buff coat of stout leather as his only armour since mobility and flexiblity were of more use as a musketeer than metal cladding. Across this he had a set of powder charges for the musket, and on his other flank (not in picture) he would have a short sword for close up protection although often the butt of the musket itself would serve the purpose well.
Gallery updated : 2015-04-29 22:28:38
Featured review :
Waterloo Archive Volume V: British Sources
Gareth Glover [Ed]


Another superb book in this series. This one has tapped a very rich seam of material hitherto inaccessible to anyone unable to read German. Though the whole book is most interesting Appendix 2 in particular appealed to me. It records some of the 'Glorious Feats' performed by men of the KGL and Hanoverian Army. There are also some excellent reproductions of original illustrations of uniforms and 'battle' scenes. See review of Volume VI for comment on the whole series.


Frontline Books, Pen & Sword Books Ltd., 2013



Reviewed : 2015-03-31 08:36:04
---