Welcome to Clash of Steel
---
Featured battle : Zamosc
Part of The French Revolutionary and Napoleonic Wars
Date : 10 February 1813 - 22 December 1813
A fairly stalemeted situation for almost a year. The vast majority of the Russian troops were ill armed untrained militia backed up with a few Cossacks and three batteries of Field artillery. The town capitulated and the Poles were allowed to return to their homes.

Featured image :
A display of historic weaponry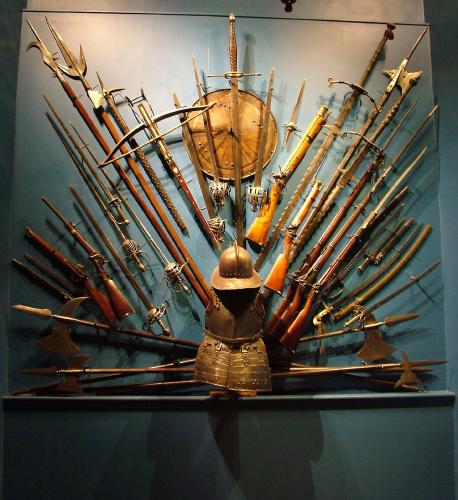 A elegant display of arrayed weaponry from medieval polearms and 2-handed swords through to 19th century percussion muskets and carbines. There are rapiers, basket-hilt broadswords, bayonets, halberds and a crossbow arranged around a 17th century (English Civil War) Pikeman's armour and helmet. The arrangement is above the staircase to the military gallery in the Castle Museum, York.
Gallery updated : 2016-02-21 17:33:57
Featured review :
Waterloo Archive Volume III: British Sources
Gareth Glover [Ed]


Just like the first two volumes another fascinating read. There are many many books which give one the strategy, and an over view of the action in the battle, some excellent in their way. But these volumes tell us, or more correctly the men themselves tell us, about real lives of real individuals who were involved in that momentous event. If you want to know who fought Quatre-Bras and Waterloo then these volumes tell you of some of the men. We can guess that most of the others, whose voices are not recorded, had similar varied lives. Also in the three British sourced volumes there are eight superb illustrations reproduced from William Mudford's history of Waterloo published in 1817. If you want to know the men read these books.


Frontline Books, Pen & Sword Books Ltd., 2011



Reviewed : 2015-02-03 20:01:50
---