Welcome to Clash of Steel
---
Featured battle : Weissenburg Lines
Part of The French Revolutionary and Napoleonic Wars
Date : 13 October 1793
The rawness of so many of their troops again told against the French. This significant defeat caused them to retreat and regroup on a strategic scale.

Featured image :
British Saladin Armoured Car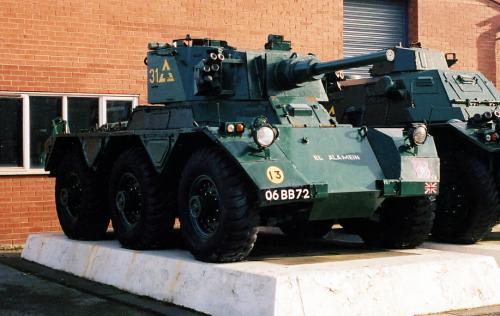 This 6 wheel drive armoured car was produced by Alvis Ltd during the 1960's and served with British forces into the 1970's. It had a top speed of 45mph (72km/h) but had good cross-country performance from it 6 wheel design and could function capably after the loss of any one of those wheels. The chassis was the same as that used for the Saracen APC (see other entry) but this variant mounted a 2-man turret armed with a 76mm gun. This example, named 'El Alamein' serves as a gate guardian for the Queens Own Yeomanry.
Gallery updated : 2015-04-29 22:28:38
Featured review :
The Waterloo Archive. Volume II
Gareth Glover [Ed]


The second volume of this six volume series is a collection from German sources. Like the first vol. it is full of amazing, vivid first hand accounts which give insights into the many personal battles which made up Waterloo. These accounts are written by men of the King's German Legion, the Hanoverian and Nassau regiments and others. The translations manage to convey what I am sure were the facts and feeling of the original texts. The fog of war made real as 'We didn't see the enemy at all. We just loaded and fired at their musket smoke.' And the horror of the aftermath described 'the next day we marched passed a barn, outside was a huge pile of amputated limbs, some with uniforms still on. Inside the surgeons were still hard at work.' Gareth Glover has brought together a mass of rare and previously unpublished work and presented it in a readily accessible form. We cannot recommend it too highly.


Frontline Books, Pen & Sword Books Ltd., 2010



Reviewed : 2015-01-08 11:41:25
---