Anniversaries for today :
Welcome to Clash of Steel!
---
Featured battle : Aleutian Islands
Part of Second World War
Date : 03 June 1942 - 07 June 1942
The Japanese launched an attack and landings upon the American-owned islands of Kiska and Attu off the Alaskan penninsula to distract attention from their operations against Midway. However since the Allies were routinely cracking Japanese codes, the diversionary intent was known and the occupation proved of minimal benefit to Japan other than propoganda.

Featured image :
Russian T34/85 Tank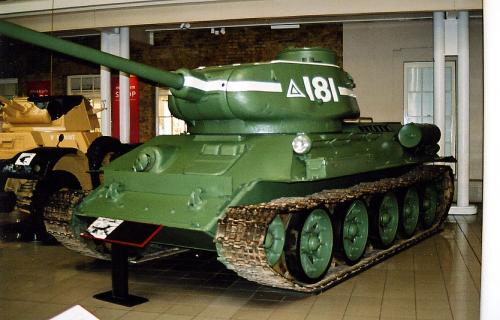 Widely thought the be the best tank of the war, the T34 was designed in 1939 but first appeared in battle in June 1941. By the end of the war 40,000 had been produced and it continued to serve in various armed forces from 1943 right up to 1985. This particular example is painted in the colours of the Soviet 95 division in Berlin,1945. The T34/85 mounted an 85mm gun in the turret and had thicker armour that earlier models.
Gallery updated : 2019-01-06 16:35:56
Featured review :
Arnhem. Battle for the island and evacuation.
Battlefield History TV Team


When I saw the picture on the case of this DVD I had very low expectations of the contents. The main character in the foreground is holding a Sten gun by its magazine and aiming it when it isn't cocked. This is very wrong firstly because when fired the magazine easily shakes loose and secondly one would need to move the weapon away from the sighting position in order to cock it.
When I came to watch the DVD I got a pleasant surprise, proving the old adage 'don't judge a book [or DVD] by its cover'.
I found a beautifully presented, accurate account of the final stages of the battle. This is the fourth film in the Operation market garden series. The strategic plan is simply told as is the tactical execution. There is a good balance of talk to camera by the experts and some veterans. The location of the battle as it is today is used as backdrop to aid the explanations of the developments. To balance the talk the film also includes maps, archive footage and re-enactor footage.
All in all it is good material well presented which kept me interested and entertained for the whole 80 minutes.



Pen & Sword Digital, 2013



Reviewed : 2019-01-07 14:32:13
---