Welcome to Clash of Steel
---
Featured battle : Lützen
Part of The French Revolutionary and Napoleonic Wars
Date : 02 May 1813
The Allies attempted to take Napoleon's army in the flank as it advanced on the city of Leipzig. Ney's corps was hardest hit but managed to hold on until Napoleon organized his other corps. About 1800hrs, after a long hard fought day, Napoleon massed his artillery against the allied centre and blasted a way through which was immediately exploited by the Guard and III Corps. The Allies fell back in good order. The Russo-Prussians were superior in cavalry but failed to exploit this, however it did ensure their retreat was well covered.

Featured image :
Sopwith Camel 2F1 World War 1 fighter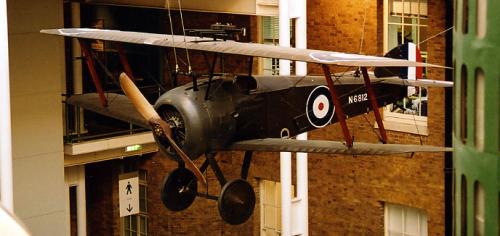 The Sopwith Camel (so called because of the hump in the forward fuselage between the pilot and the propeller) arrived late in the First World War, entering service on the western front on 4th July 1917, to late to prevent the 'happy time' in April that year when the German Jagdstaffel wrought such havoc on allied aircraft. Even with it's late entry to the war, it proved such a successful 'fighting scout' that it downed more enemy aircraft than any other single type during the whole war, and only the German Fokker Dr.1 could match it's manoeuverability. The over-land version, the F1 mounted a pair of synchronised .303in Vickers machine-guns in the hump just over the engine, firing through the propeller. This version, the naval 2F1 mounted a pair of Lewis .303 MG (or often one Lewis and One Vickers) on top of the upper wing, firing above the propeller disc. This particular aircraft was flown by Flight Sub-Lieutenant Stuart D Culley, from a lighter towed by the destroyer HMS Redoubt on 11th August 1918 when he shot down the last German airship (L.53 under Kapitänleutnant Prölss) to fall during the war.
Gallery updated : 2016-02-21 17:33:57
Featured review :
Waterloo Archive Volume III: British Sources
Gareth Glover [Ed]


Just like the first two volumes another fascinating read. There are many many books which give one the strategy, and an over view of the action in the battle, some excellent in their way. But these volumes tell us, or more correctly the men themselves tell us, about real lives of real individuals who were involved in that momentous event. If you want to know who fought Quatre-Bras and Waterloo then these volumes tell you of some of the men. We can guess that most of the others, whose voices are not recorded, had similar varied lives. Also in the three British sourced volumes there are eight superb illustrations reproduced from William Mudford's history of Waterloo published in 1817.
If you want to know the men read these books.


Frontline Books, Pen & Sword Books Ltd., 2011



Reviewed : 2015-02-03 20:01:50
---