Anniversaries for today :
Welcome to Clash of Steel!
---
Featured battle : Valls
Part of The French Revolutionary and Napoleonic Wars
Date : 25 February 1809
A staccato battle in which each side in turn paused at crucial moments when to have attacked would probably have won the day. The Spanish paused to rest after a night march. The French paused and watched the Spaniards withdraw over a bridge. The Spaniards drew up in line of battle and then waited for three hours before the French attacked. When they did the Spaniards gave one volley and fled. About as many were killed as were captured.

Featured image :
Farsley South African War Memorial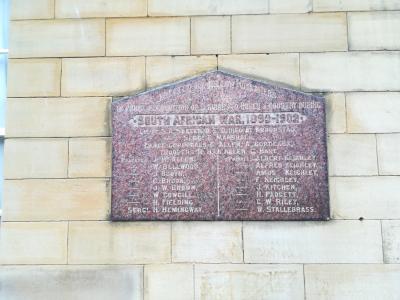 "...Erected by Fellow Villagers" - Lists the names of men of Farsley who died in the South African (2nd Boer) War, 1899 - 1902.
Gallery updated : 2019-01-06 16:35:56
Featured review :
How the Navy Won the War
Jim Ring


To the general reader the idea of the Navy winning the First World war may appear odd. 'Everyone' knows of the mighty battles the army fought and that the Navy had only one major engagement. Reading this book will change their minds. As the author points out in the introduction 'This story, by no means unfamiliar to naval and military historians, is one which has never captured the public's imagination…'
Throughout this book the interesting premise is well developed. Jim Ring has done his research well and could have presented a dry academic exercise but the story flows from event to event at a pace to reflect the developing situations in a gripping and most readable way. The land story, the sea story, the political and the military are intertwined and have a cohesion which makes for easy understanding.
The book is not large, 232 pages, including a group of thirteen photographs. The content is, therefore, an overview with very little detail but the extensive seven page bibliography points the reader towards an extension of any of the events and persons they wish to follow up.
This is a book should capture the public's attention and imagination, as the author intended, and we thoroughly recommend it. After reading it the First World war will never appear the same again.



Seaforth Publishing, 2018



Reviewed : 2018-10-22 10:11:35
---