Welcome to Clash of Steel
---
Featured battle : McDowell
Part of American Civil War
Date : 08 May 1862
As part of Stonewall Jackson's campaign to tie down Union forces in the Shenandoah Valley, he decided to prevent Gen. Fremont and Gen. Banks from uniting their commands against him. He advanced across the valley and met Schenk and Milroy (Fremonts advance units) at McDowell. The Confederates comfortably outnumbered the Union forces and drove them back as far as Franklin.

Featured image :
General Piet Cronje's saddle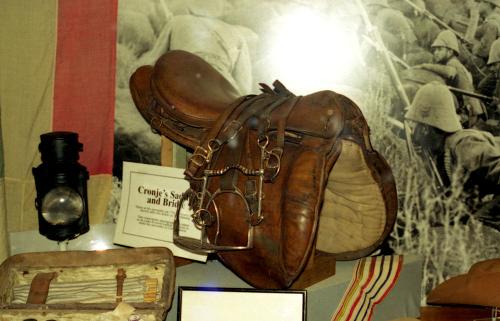 The saddle and bridle of Boer General Piet Cronje, surrendered after the Battle of Paardeberg to the Alexandra, Princess of Wales' Yorkshire Regiment (The Green Howards), Feb 1900.
Gallery updated : 2016-02-21 17:33:57
Featured review :
The Waterloo Archive. Volume II
Gareth Glover [Ed]


The second volume of this six volume series is a collection from German sources. Like the first vol. it is full of amazing, vivid first hand accounts which give insights into the many personal battles which made up Waterloo. These accounts are written by men of the King's German Legion, the Hanoverian and Nassau regiments and others. The translations manage to convey what I am sure were the facts and feeling of the original texts. The fog of war made real as 'We didn't see the enemy at all. We just loaded and fired at their musket smoke.' And the horror of the aftermath described 'the next day we marched passed a barn, outside was a huge pile of amputated limbs, some with uniforms still on. Inside the surgeons were still hard at work.' Gareth Glover has brought together a mass of rare and previously unpublished work and presented it in a readily accessible form. We cannot recommend it too highly.


Frontline Books, Pen & Sword Books Ltd., 2010



Reviewed : 2015-01-08 11:41:25
---