Anniversaries for today :
Welcome to Clash of Steel
---
Featured battle : Castiglione delle Stiviere
Part of The French Revolutionary and Napoleonic Wars
Date : 05 August 1796
The armies of Bonaparte and Würmser faced each other with the Austrian left 'in the air'. Würmser strengthened this with most of his guns and his cavalry. The French weakly attacked the Austrian front and then withdrew more on their left than centre. The Austrian line moved forward to fill the 'vacuum'. A French force under Fiorella having come by forced march all through the night attacked the left rear of the Austrian line coordinated with a full attack all along the Austrian front. But for some determined defence, and a strong counter attack by Austrians under Bajalich, Würmser's force would have been surrounded.

Featured image :
19th Century British Coatee jackets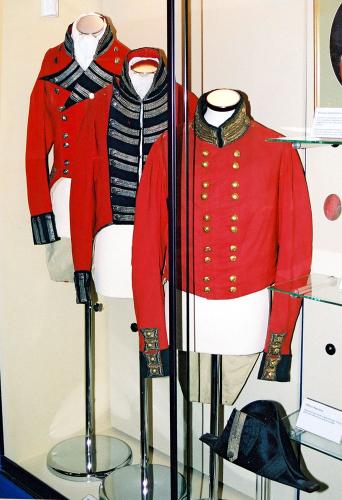 A set of Coatees and Infantry officer's hat as used by the 96th Regiment. From left to right they date from 1796-1816, a short-tailed coat from 1812, and 1829-54.
Gallery updated : 2016-02-21 17:33:57
Featured review :
Waterloo 1815 Captain Mercer's Journal
Bob Carruthers


Part of the Military History from Primary Sources Series this slim volume [126 pages] is well illustrated with numerous almost contemporary illustrations. As a child I was told you should rise from eating a meal feeling as if you would like more. This book does just that for it is but a selection from the complete journal. It is a wonderfully balanced choice; the wide variety of subject matter in the complete journal is truly reflected here. If one hasn't read the full journal then this book is an excellent introduction - even an enticer to read more. Well written, well presented and therefore recommended.


Pen & Sword Military, 2012



Reviewed : 2016-02-08 19:23:02
---