Anniversaries for today :
Welcome to Clash of Steel
---
Featured battle : Figueras [1]
Part of The French Revolutionary and Napoleonic Wars
Date : 10 April 1811
This key fortress was taken by subterfuge, hence the low loss of life on both sides. The Garrison was a single Italian regiment. Napoleon ordered the immediate re-capture of the place, see Figueras [2]

Featured image :
WW2 British Paratrooper - MUR3_pathfinder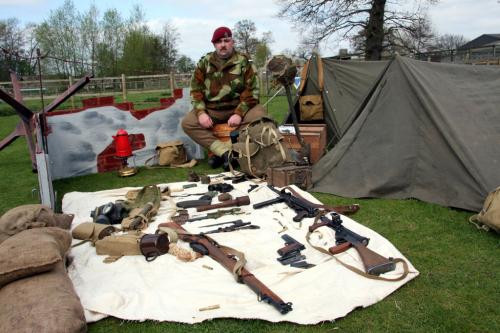 A member of the 22nd Independant Company, 6th Airborne Div. "Pathfinders" sent in to Normandy early on D-day to hold the eastern flank of the landings. Seen here with a selection of the equipment carried by the paratroopers.
Gallery updated : 2016-02-21 17:33:57
Featured review :
Lockheed SR-71 Owners Workshop Manual
Davies, Steve & Crickmore, Paul


An excellent book on one of the world's greatest aircraft! It follows in Haynes tradition of 'manual' style books on equipment we'd love to own with fascinating detail gained from people who were intimately involved with the Blackbird, or 'Habu' as it was known amongst those who flew it. As well as detail of its genesis, history and missions there is plenty of detail on equipment, engines and of particular interest to myself, what it was like to actually fly one. The book includes a full list of the fate of each aircraft and a glossary of terms used. Full of photographs, diagrams and detail but still very readable. Highly recommended.


Haynes, 2012



Reviewed : 2013-01-29 00:00:00
---