Welcome to Clash of Steel!
---
Featured battle : Guise
Part of The French Revolutionary and Napoleonic Wars
Date : 24 June 1815
The 2nd Brigade of the Prussian I Corps were moving south and dealing with strongpoints on the way. The fortified town of Guise was defended by National Guard troops. The Prussian casualties were very light and the Garrison were disarmed and sent home. The Prussians then left a garrison in the town.

Featured image :
A Boer fighter - MUR3_boer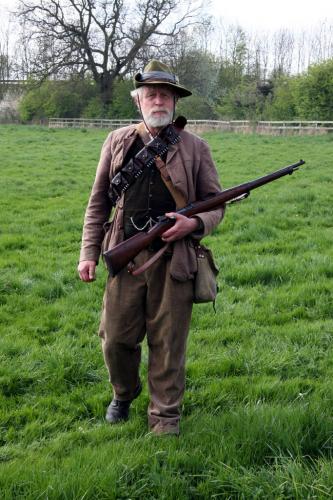 A member of the Heilbron Commando Boer re-enactment group with Mauser and bandoliers.
Gallery updated : 2019-01-06 16:35:56
Featured review :
British Army of the Rhine - The BAOR 1945-1993
Paul Chrystal


Part of the "Cold War 1945-1991" series, this is quite a small book at only 126 pages, to cover such a large subject and I think that's it's biggest issue. It tries to cover too much. There are sections which are interesting and obviously well researched, particularly the chapters on the predecessors and formation of the BAOR, de-nazification & fraternisation and the 'families on the Rhine'. The sources and further reading sections are useful too. However the majority of the period of the BAOR's service is somewhat sparsely covered, and the token section on the RAF and the Royal Navy really should have been left out all together. There is hopefully a much bigger, more comprehensive book somewhere that this is taster for, and I would very much like to read it. The author has a good grasp of the subject and good photographs supplied by his family furnishing welcome detail and authenticity but it has definitely lost something in the edit.


Pen and Sword Military, Barnsley, 2018



Reviewed : 2019-04-29 20:02:17
---