Welcome to Clash of Steel!
---
Featured battle : Ypres
Part of The French Revolutionary and Napoleonic Wars
Date : 01 June 1794 - 17 June 1794
The Coalition garrison held out but after three attempts to relieve them they capitulated on the 17th June. About 400 were killed and the remainder were captured. Ypres, being a key position, gave the French command of the whole Flanders area.

Featured image :
The Newcastleton detachment, 4th Kings Own Scottish Borderers, 1914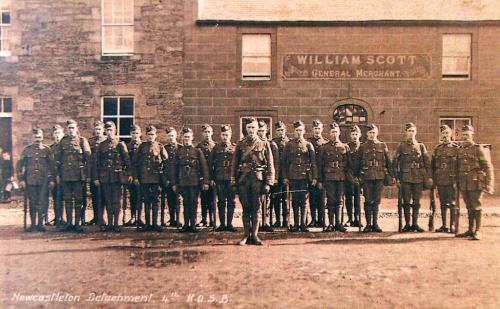 A photograph exhibited in the Liddesdale Heritage Centre, Newcastleton showing the Territorials of the 4th KOSB with the caption "The territorials, under the command of Major Cochrane, on parade in Douglas Square before leaving for active service in the 1914-18 war". Alongside the photograph, which incidentally includes the photographer's grandfather, is the following list of those pictured (Left to right): Andrew Jardine, Billy Crozier, David Robson, Frank Cowan, Jock Elliot, Tom Elliot, George Nicholson, Hugh Adamson, Johnnie Hogg, Jim Armstrong, Wattie Elliot, Major Cochrane (officer in front), Sandy Elliot, Jock Holliday, Barton Robson, David Oliver, Willie Thompson, Jimmy Foster, Tom Ewart, Alex Inglis, Thomas Inglis, Wull Little.
Gallery updated : 2019-01-06 16:35:56
Featured review :
The Cyprus Emergency
Nick van der Bijl


I thoroughly enjoyed reading this book covering, as it does, both the political and the military aspects of the Cyprus 'troubles' from 1955 to 1974. The narrative flows from event to event with little comment or opinion allowing the reader to understand the series of cause-and-effect which brought the island to its present state. There are three good maps and a set of photographs which well illustrate the text.
I should here declare a deep personal interest as I served in Cyprus during the Emergency, 1958-61, and for a while was part of the security team at Government house. It is a slightly odd experience to look at a photograph in a 'history' book and to know that one was there standing in the next room. Also, to read about incidents in which one was involved including the death of a close comrade. The author perfectly captures the changes felt by the 'boots on the ground' when Hugh Foot became Governor and Major-General Kendrew was replaced by Major-General Darling as Director of Operations. Although I found that the book was a little uncomfortable in parts to read about intelligence and security failings, all accurately conveyed by the author, which we should have known at the time.
According to my experience the book 'rings true' and I thoroughly recommend it to anyone interested in the history of our time and especially all those young National Servicemen who got their knees brown during the Cyprus Emergency.



Pen and Sword Military, 2018



Reviewed : 2018-10-12 12:54:47
---