Welcome to Clash of Steel!
---
Featured battle : Sandomierz
Part of The French Revolutionary and Napoleonic Wars
Date : 18 May 1809
The Poles, fighting on Napoleon's side, hoped for freedom from Austro-Russian domination of their country. In this battle the Austrians were mostly new infantry recruits. Their defeat was marked by about 800 deserting to join the Poles.

Featured image :
The Newcastleton detachment, 4th Kings Own Scottish Borderers, 1914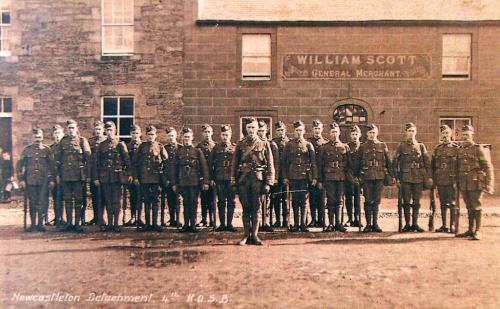 A photograph exhibited in the Liddesdale Heritage Centre, Newcastleton showing the Territorials of the 4th KOSB with the caption "The territorials, under the command of Major Cochrane, on parade in Douglas Square before leaving for active service in the 1914-18 war". Alongside the photograph, which incidentally includes the photographer's grandfather, is the following list of those pictured (Left to right): Andrew Jardine, Billy Crozier, David Robson, Frank Cowan, Jock Elliot, Tom Elliot, George Nicholson, Hugh Adamson, Johnnie Hogg, Jim Armstrong, Wattie Elliot, Major Cochrane (officer in front), Sandy Elliot, Jock Holliday, Barton Robson, David Oliver, Willie Thompson, Jimmy Foster, Tom Ewart, Alex Inglis, Thomas Inglis, Wull Little.
Gallery updated : 2019-01-06 16:35:56
Featured review :
The Very Thing
Jonathan Crook


The title neatly sums up my opinion of this book it is the very thing for anyone with a keen interest in Napoleonic soldiering. Part of the long military history of the Royal Welch Fusiliers is told through the memoirs of Drummer Richard Bentinck from 1807 to 1823. The story travels from Copenhagen to North America to the Peninsular and finally to Waterloo and the occupation of France. We get a fascinating insight into the life of the ordinary British soldier not all saint and not all sinner
A thoroughly good read which I cannot recommend too highly.


Frontline Books, Pen & Sword Ltd., 2011



Reviewed : 2016-06-07 19:25:08
---