Dumfries and Galloway Aviation Museum
---
Images taken at the Air Museum located on the former RAF Dumfries. A good collection of exhibits along with a well restored control tower.
Click on the entry for a larger image and details, or click to go back to the previous index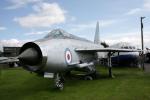 The classic lines of the British Lightning interceptor, which was in use across the world from the late 1950's into the 1980's. It's 'party piece' was to stand on it's tail almost from take-off and climb vertically to it's operational height and coul...
Dumfries and Galloway Aviation Museum, August 2010
---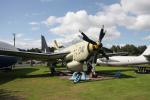 The airborne early warning radar aircraft used by the Royal Navy's Fleet Air Arm during the 1960's. It's highly distinctive shape includes novel coaxial contra-rotating propellers, double folding wings and the bulbous radar housing on the underside.
Dumfries and Galloway Aviation Museum, August 2010
---